White Sneaker
If you couldn't tell by all of my previous posts, I'm a big fan of white sneakers. It dresses things down and makes things casual, but also keeps the outfit pretty clean and sleek. I don't think you can go wrong with a Nike Air Force 1, but if you do want to keep yourself apart from others, Windsor Smith shoes are a great alternative that gives off the same look! The Carte White Leather Sneaker have a nice platform and sporty look to them.
Statement Sneaker
As opposed to a white sneaker that keeps everything sleek, I think a statement sneaker can really change up a basic outfit for the better. Before going hunting for the perfect statement sneaker, make sure to think about the colours in your closet + the vibes that you are going for. I have been eyeing the Nike Air Max 270 React SE sneaker, but can't seem to bring myself to buy them. Although this is the case, I can't deny that it's a pretty shoe with a colour-way that I've never seen until now. I'm not that big of a sneakerhead since I only wear white shoes on the daily, but it would be fun to expand my sneaker collection when I gain the budget for it. Nike Air Jordans would be a cool collection item in the future.
Chelsea Boot
I've owned Chelsea Boots since high school, and I've always felt like it elevated an outfit that I would normally wear with sneakers. It's another one of those footwear essentials that you can wear dressed up or dressed down. It'll also keep your ankles warm from windy weather. Chelsea Lug Boots, in particular, are in style right now – so cop yourself a pair! For Black Friday this year, I actually bought a pair online at Urban Outfitters for a good deal. The UO Mira Chunky Chelsea Boot offers the same classic vibe with just a little bit of streetwear and grunge.
A Nice Sandal or Slide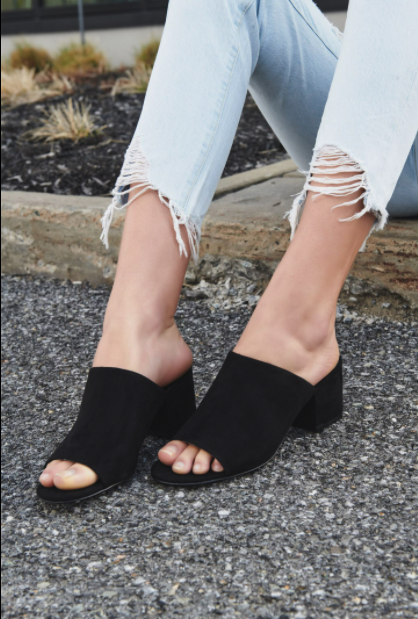 In the summer, your feet can get a little too toasty in a sneaker or boot. With that being said, opting for a nice slide is essential to keep the outfit cohesive but airy! I would opt for these – clad with any nail polish colour is a must! The Steve Madden Lorna Mules are sleek black with a little bit of a heel to make you just a tad bit taller. Exposing the ankle elongates your legs, which also gives off the illusion of having longer legs and being taller. I personally think these mules look sleeker than a heel… but maybe that's because I wouldn't opt for a heel at any point.
Slippers
Most people don't mention slippers when they think about the necessary footwear. Honestly, I didn't think about it until a few months ago when I invested in a pair of slippers and realized that I stopped suffering from extremely cold feet. It was life-changing. UGG perfects the art of the slipper. If you enjoy the classic slipper from previous years, you can't go wrong with their closed-toe Scuffette II slipper which offers a plush wool lining. If you want something a little more extreme and stylish, UGG has recently garnered attention with their Fluff Yeah Slides, which come in many vibrant colours and platforms. You either hate them or you love them. I can vouch for investing in house slippers for forever, especially since working from home is the vibe now!