If you haven't seen all over the Internet this fall, everyone is naming the Aritzia Wilfred Melina Pant as the pant of the season. They can be seen on Emma Chamberlain, BestDressed, itsyuyan and many more!
Once autumn weather rolls around, it's a must to take out the leather! These pants were released last year, but they are the new hot item this fall. The Melina Pant comes in a range of neutral colours, as well as the classic black shade. At a whopping $148, you get what you pay for, as they're vegan leather, high-rise, and straight leg. It basically ticks off all of the boxes necessary for this fall.
Fortunately, for us short girls, they also came out with a cropped version with a 26″ inseam! Although this is an amazing feat, their black cropped pair is on special order until December 31, 2020… yikes. So, if you find a dupe, make sure to snatch it up before anyone gets them (and leave a link in the comments so I can also cop a pair). If you are taller though, the regular length pants are still in-store and online at Aritzia, so grab one before they're all gone. It's best to try them on in-store because they tend to be very tight at first but stretch over time – so it really depends on what kind of fit you're looking for.
The Aritzia Wilfred Free Daria Pant was also popular (and still is) in previous seasons, so if you're not into the straight-leg pant look that the Melina Pant offers, these leggings give off the same leather look at $138. They also come in an ankle version for us short girls as well!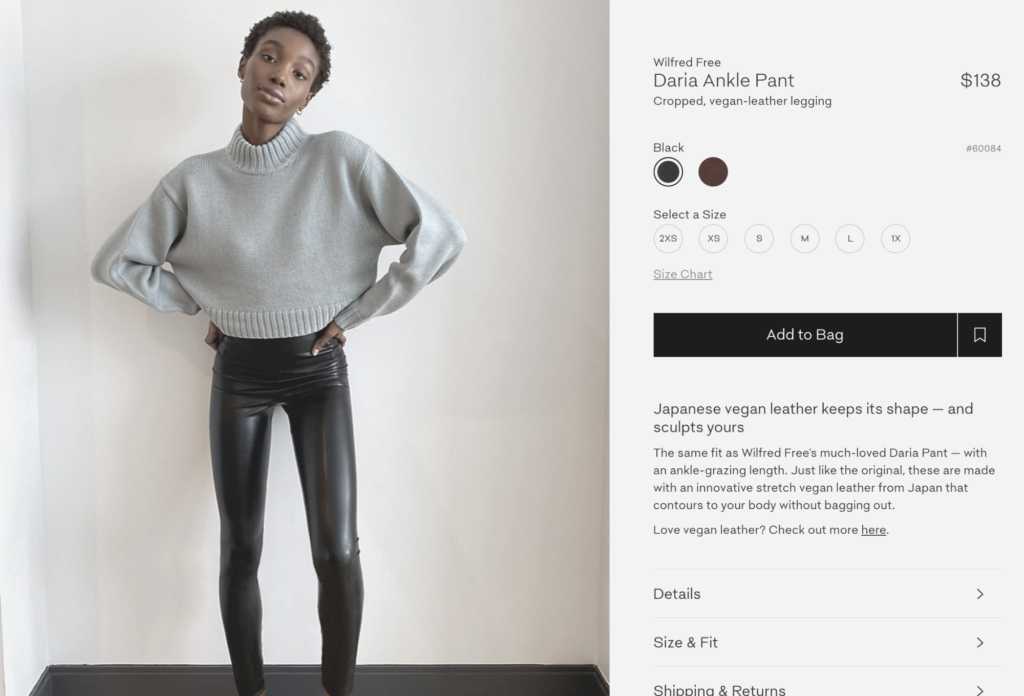 I don't have either of these pants, but my friends own them and they can vouch for how soft and easily washable both of these items are!
Unfortunately, I don't have the funds to cough up right now for some Aritzia pants. However, I did end up buying a pair of faux leather leggings from Topshop for $75 (cheaper if you can get them on sale, as I did). Leather pants are definitely out of my comfort zone, so I thought I could take this opportunity to try and style them a few ways to keep up with the fall trend. It's a comparable dupe to the Daria Pant, as it has a soft feel compared to many other cheaper leggings that are rough and not malleable to the skin. This pair has a zip and button closure on the side, as well as an elastic waistband that keeps everything tucked in well. Also, it's super important to note that these come in regular length as well as petite length. I'm normally a size 4 or 27 in pants, but I bought these in a size 2 petite and they fit perfectly around the waist and at the ankle. I'm assuming that they will stretch over time, but I will update this post after I've worn them more. I also looked at the washing instructions before buying them (because if they were super tedious to wash, forget it) and they're very easy to wash!
I wear the same shoes in every photo so I'll just link them here for reference – The Adidas Grand Court Shoes in White/Core Black (6.5).
Long Coats
I didn't like the way the backside looked on these leggings, mostly because underwear lines are super prominent even when wearing the right underwear. But, surprisingly they aren't see-through. If you can find a way to wear these without having visible underwear lines then it would be great with cropped items as well (I will have to investigate further)!
Crewnecks
I never really wore crewnecks up until quarantine. I didn't realize how versatile they were to pair with anything and everything. They wore well under thick coats as well, since hoodies sometimes bunch up weirdly around the neck. I originally thought they were bland until I realized that pairing them with a bag delivers a whole different vibe that I'm clearly into. The middle outfit is a classic for this fall, as many people are pairing collared shirts underneath sweaters and crews! Also, I normally don't wear black-on-black outfits, but since the leather adds a different texture, it ends up working out quite well in the third outfit.
Denim Jackets
Lastly, denim jackets and hoodies look amazing to give off the model-off-duty vibe. Considering that I live in a cold climate, the first outfit is perfect. However, if you live in a warmer climate, outfit two and three would work out well! I've personally always matched denim jackets with everything that I wear and they never do me wrong – a true classic. Honestly, I took this one from my dad's closet for a true oversized feel so that it would fit over my oversized hoodie.
Before I did this styling exercise, I was still debating on whether I should keep these leggings or not – but I've decided to keep them. They were super comfortable to chill in while styling them + very easy to pair with everything in my closet.
Are you guys invested in the leather pant trend? Drop in the comments which pant style you prefer!